Home | Events/Workshops | Storytelling | Singing |
| About Esyllt Harker |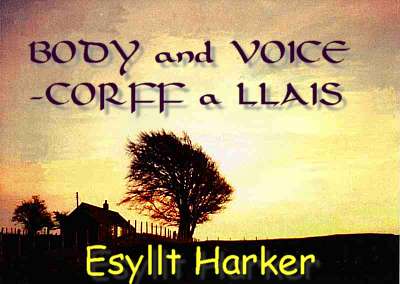 Singer and Storyteller/ Cantores a Chyfarwydd
Performances - Solo and with other established artists
Group Workshops and Individual Sessions
Explore Body and Voice for Ease, Confidence, Health and Song.
---
LIVING LEGENDS - EXPLORING STORYTELLING 2
The land is alive with stories. Let's find them,
along with skills and creative confidence to pass on.

Jan.10th-March 21st Mons. 1.15 - 3.15 pm. Maes Elfryn Hall, Llandeilo:
(NB This class is about oral, not written storytelling)
DEWCH I GANU - SING YOUR WAY TO WELSH 2
Simple, traditional songs for Welsh learners, forgetters and others.
No-stress learning with ease and enjoyment. No experience needed.

Jan.13th-March 24th Thurs. 1.15 - 3.15 pm Llangadog Hall (NB New Venue):
NEW MEMBERS VERY WELCOME to BOTH CLASSES - CROESO I BAWB
Please phone tutor Esyllt Harker 01558 824504 for more information.
These classes are provided by DACE, Swansea.www.swansea.ac.uk/dace
For fees etc. 01792 602211
NB. It's essential to register promptly at the first class (second or latest) or via DACE
Events from 2010

April 9th - 18th.
Kozani International Festival of Storytelling, Greece
www.kozani-festival.gr
Esyllt will be storytelling and leading a workshop at this festival.
***
Dewch i Ganu – Sing your Way to Welsh
Stress free learning through song –
for Welsh speakers,forgetters and learners.
No experience of singing or of Welsh needed.

Wednesdays 1pm.- 3pm.
10 weeks starting Jan.13th.2010
Welfare Hall, Ystradgynlais

This course is promoted by DACE, Swansea.

***

Tywi Afon yr Oesoedd - Tywi River of the ages
Storytelling, Singing and other participation in this project.
www.tywiafonyroesoedd.org.uk

EVENTS 2009

June 26th. - July5th.
Storytelling at the Smithsonian Folklife Festival, Washington DC
---
STORYTELLING

Esyllt Harker is a versatile singer and storyteller, performing in English and/or Welsh. In 2009 she was one of a delegation of artists and craftspeople chosen by the Welsh Assembly Government to take part in the Smithsonian Folklife Festival, in Washington DC, where Wales was the featured nation. Her material draws primarily on her strong Welsh roots - myth, legend and history mix with gleaned fragments found in the features and memories of the land. She is noted for her easy interweaving of the Welsh and English languages, making for effortless understanding. She also moves smoothly between spoken and sung material, bringing a new - but age old - inflection to her telling. She has performed frequently at Beyond the Border International Storytelling Festival, and was part of the second Rough Guide to Wales tour in 2002. She tells in theatres, festivals, museums, schools, parks, shopping precincts, living-rooms, castles, on clifftops..........
Mae Esyllt yn cynnig ei gwaith yn y Gymraeg ac yn Saesneg.
ENCHANTED TALES / CHWEDL A CHAN
* Bewitching
* Entertaining
* Strengthening
* Healing
* Educating
Stories can be all of these.
Tried and trusted tools for adults and children as individuals,
in families and communities
throughout the ages - throughout the world
Stories are for Anyone - Any age - Any time.
Imagination's Tongue
Lively presentations for Welsh learners to make learning effortless.
A chance to discover the language through the senses, and be amazed how much you can understand. English 'sub-titles' where needed.
---
Esyllt sings predominantly traditional Welsh/Scottish songs, and traditional Greek songs.
She also loves to sing jazz, and has some training and experience in both classical singing and Indian raga form. She likes to work with material that draws on any of these and other sources, including original compositions.

THE WHOLE VOICE
Esyllt offers workshops, individual and small group sessions, to explore Body and Voice - for ease of expression, song, health and fun. A 'natural voice' approach.
· Songs for All Seasons ·
Ease your body and release your voice, learning simple songs easily, by ear.
Rounds, chants, part-songs. For anyone, with or without experience, who likes to sing.
· Dewch I Ganu ·
Welsh songs specifically for learners or non-confident speakers.
Singing relaxes the brain - a great way to get a feel for the language
without pressure to remember rules or talk sense!
· The Whole Voice ·
Supportive group sessions for exploring the whole range and expressiveness of our voices through breathing.. relaxation.. movement.. stillness.. imagination.. and songs.
For more and less confident singers alike.
· Individual sessions ·
Your own voice can be your guide to greater freedom and
ease of body, voice and spirit -
to Sound Health.
---

Esyllt Harker has been involved with the expressive arts and self-healing body- work since 1982. She is a singer and storyteller, and has trained and worked as a Shiatsu practitioner. She offers song and story in schools, museums, art galleries, restaurants, community events, women's groups, living rooms, on clifftops.....
She sings solo and with other musicians - folk, jazz and original material. Her principal training has been with Gilles Petit, who teaches a unique integration of Indian ragas and embodied voice. She has also trained with voice in the contexts of theatre, and personal growth/development.
Esyllt Harker is a native Welsh speaker, and has lived for long periods in England, Scotland and Greece before returning to her roots in N.Wales in 1991. She now lives in S. Wales. She has worked in Welsh and English language theatre and television. She has offered workshops promoting relaxation and confidence rooted in body and voice, since 1986.
Esyllt Harker has also been a primary school teacher and a teacher of EFL. She has worked with profoundly handicapped, disabled and elderly people in both 'caring' and facilitating roles. Esyllt was an assistant house manager at Coleg Elidyr, a Camphill college for young adults with learning difficulties, from 2006 - 9'
---
CORFF a LLAIS
Ymddiheuraf nad wyf wedi gallu creu safle Cymraeg eto. Mi ddaw.
Last adjusted .......by BangorEyE WebDzine
---